Jamie's Farm, Skipton
Welcome to the farm
Nestled near Skipton in the sweeping countryside on the south of the Yorkshire Dales, lies our latest farm launched just this year. The extensive farm will host young people, initially through our day visit programme, from across the region and beyond.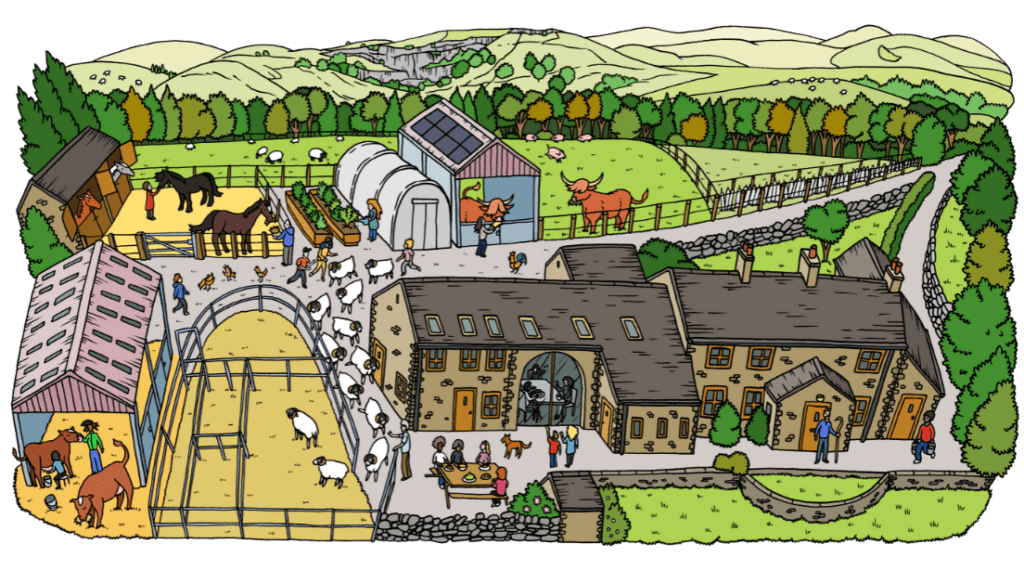 The site covers a stunning 245 acres of pasture, which has already undergone quite the transformation in the form of miles of hedgerows, hundreds of new trees and acres of herbal leys pasture. The newly converted farm buildings create a wonderfully welcoming space for our young people to cook, live and work together alongside the Jamie's Farm Team. The resident animals include Mountain Sheep, pigs, chickens, and cattle including our two Highland Cows.
From those who have visited Jamie's Farm Skipton
"The Jamie's Farm experience is without doubt one of the richest intervention opportunities out there…"
"… and we'd be very keen to continue working with the new team over in Skipton."
Talk to us about booking a visit to a farm
Our farms are open all year around, both during school term time and in the holidays.
We welcome groups from any organisations which work with young people who may benefit from a visit to Jamie's Farm. This includes mainstream schools, alternative provisions, special schools, local authority groups, virtual schools and charities.
We're currently taking bookings for our Day Visit Programme at our Skipton Farm. Please get in touch with Dom to find out more.